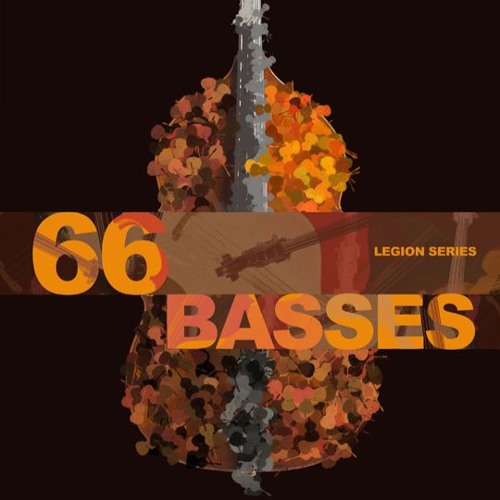 8dio Legion Series: 66 Bass Ensemble KONTAKT-DECiBEL
Team DECiBEL | 10 Sep 2020 | 14.02GB
66-Basses is the first creation in our new Legion Series - an instrument line dedicated to solving specific needs in epic cinematic music.
66-Basses is all about professional cinematic bass. We gathered a 66-piece symphonic double bass ensemble in our favorite modern recording hall, Zlin. The ensemble was created by uniting professional bass players from 9 different countries in Europe. A life-time opportunity and all the players gave it their absolute best in these sessions. It shows.

66-Basses contains all common articulations (Sustains Types, Short Notes, Arcs, Effects, Note-Bends etc) and a large set of new articulations (Dynamic Waves, Tuning Clusters, BPM-based Ostinatos, Bridge FX etc).

We also spend the better of a month on 50 uniquely crafted analog synth ensembles. The library features 10 different microphones, including a new Binural microphone that gives you a sonic VR experience of the sessions. 4 Hall-Based microphones (Mixed, Decca, Far and Wide) and 5 intimate close Spot microphones for more detailed sound.

66-Basses also features a new 3D-rendered UI with a new 4-part modulation engine and a whole special section of BPM-based Ostinatos.

66-Basses cost us over $70.000 to produce and is the first of several in our Legion series. It is the dream of cinematic basses resolved. Rich, Warm and Fulfulling.

66-Basses
66-Basses contains the largest symphonic bass ensemble ever recorded. A once in a life-gathering of 66 professional double bass players - in a large, modern concert hall. We removed all chairs and baffles in the hall - to maximize the reverbation, which goes over 3 seconds. It is the same hall we used for Majestica, Lacrimosa, Acoustic Grand Ensembles, CAGE and many other instruments.

9 Microphones and 1 Binural
The library contains 10 different microphone positions, including our new Binural Microphone. The Neumann Binural microphones offers you 100% life-like recordings from the sessions. The Binural mic was placed near the conductor, so you hear it from his perspective. The library also includes 4-Hall Microphones (Decca, Mixed, Far, Wide) and 5 close Spot Microphones.

Rich, Warm and Deep Articulations
66-Basses is rich and phat in its sound. The same goes for its deep-sampled articulations (ex. Sustains, Marcato, Several Arcs, Tremolos, De/Crescendo FX, Spiccato, Bartok, Pizzicato, Bending/Glissandi FX etc) and new unconventional articulations (ex. Dynamic Waves, Tuning Clusters, Bridge FX, Arcs with Bending Notes, Octave Drops) and everything in between. Depth in every way.

50 Custom Analog Synth Ensemble
Cinematic Basses are often augmented with carefully placed analog synths. The synths help boost the subwoofer regions of cinematic basses and creates a gorgeous warmth underneath the 66-Basses. We programmed and sampled an array of analog synths and created 50 synth ensembles in the library. The stack function allows you to merge as many synths as you want. Phatness forever.

4-Part Modulation Engine
66-Basses also includes our new 4-part modulation engine for extreme sample and effects work. The 4 modulation engines each contain their own X/Y Matrix grid - and you can assign an FX parameter to both the X/Y value. In addition powerful functions like reverse and stack is only a click away. Stack allows you to play several articulations at the same time. Highly useful for synth presets.

OVERVIEW
Professional Cinematic Basses
66-Person Symphonic Bass Ensemble
14.299 Samples. 28GB HDD (compressed to 14GB)
66 Basses Sustain Types, Short Notes and Dynamic Arcs
66 Basses Effects, Bending and Drop Notes
50 Analog Cinematic Ensemble Synths
4 Specially Built SFX Pads + Chaos FX 3.4
1 Binural Mic. 4 Hall Mic (Mix, Decca, Wide, Far)
5 Close Spot Microphones
All patches come with DFD, TM and TMPRO options

REQUIREMENTS
Full Retail version of Kontakt 5.6 or later required
Kontakt 5 is 32 and 64-bit compatible on both PC and Mac platforms
Legion Series: 66 Basses requires 14 GB of hard drive space
Runs as a stand-alone application, VST or Audio Units plug-in, AAX under Pro Tools
Minimum: 4 GB RAM. 8 GB of RAM or more is highly recommended

home page: https://8dio.com/instrument/legion-series-66-basses/



TO MAC USERS: If RAR password doesn't work, use this archive program:
RAR Expander 0.8.5 Beta 4 and extract password protected files without error.
TO WIN USERS: If RAR password doesn't work, use this archive program:
Latest Winrar and extract password protected files without error.
Members of Guests cannot leave comments.
Would you like to be a Author?