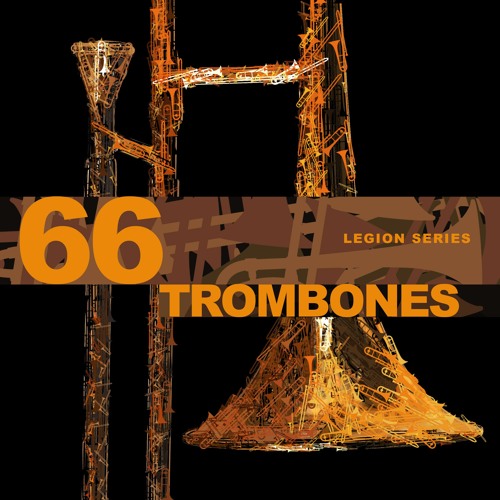 8dio Legion Series: 66 Trombone Ensemble KONTAKT-DECiBEL
Team DECiBEL | 10 Sep 2020 | 8.79GB
Our Legion Series is a collection of Extreme Cinematic Ensembles including our 66-Basses, 66-Tubas and now our 66-Trombones. This instrument line is dedicated to solving specific needs in modern epic cinematic music.
Legion Series: 66-Trombones is a never-before sampled ensemble of symphonic trombones, be inspired by its rich textures and unique range of timbres.

The library, recorded in our favorite oval-shaped concert hall 'Zlin' is designed to blend beautifully with our other Legion Series, creating a brilliant low-end sound. The sheer size of this ensemble allows the lower dynamics to remain incredibly detailed and perfectly balanced, even while playing quietly you can hear the rich texture of the group.

Legion Series 66-Trombones is an incredibly versatile library, with its rich and warm legato, a large and colorful low-end, bright fortissimo sustains, punchy shorts and effects. 'Epic' is the only word you need to describe this instrument.

Deep-Sampled Articulations
66-Trombones contains a large set of common articulations including nine different types of sustains, four different styles of natural legatos and nine different ranges of dynamic arcs, all extending from soft and delicate to majestic and loud. We also included aggressive and punchy staccatos, which can be either played one-shot or rhythmically synced. With an ensemble this size, we wanted to capture a set of unique articulations including massive bends, rips, and crescendos, as well as different styles of clusters and arcs.

Precisely Recorded
Being a once in a lifetime opportunity, we needed to capture the group with great precision. To do this we included eight microphone positions strategically adjusted to capture the ensemble's intensity from all angles. We used the standard Decca Tree used in all of our libraries as well as a pair of Far and Wide microphones to capture the beautiful Zlin Hall. We also used five strategically-placed Spot microphones so you can isolate a particular group of players, or use them in any combination of creative ways. Finally, we included two styles of custom in-house mixes including a 'Clean Mix' of all of the microphones and a dedicated 'Trailer Mix' for an upfront and epic brass sound.

Comprehensive Controls
Our Legion Series contains a comprehensive array of intuitive controls. You can instantly stack and combine as many articulations as you want. Reverse any sound with a single click, adjust the speed, pitch, and sample offset with just a touch of a dial. Everything is quick, easy and intuitive, so you can concentrate on what is important - the music.

4-Part Modulation Engine
Legion Series 66-Trombones also includes our new four-part Effects Engine for extreme sound processing. Each of the four effect modules contains an X/Y Matrix grid, with X/Y parameters that can be assigned to any of the settings and mapped to any MIDI CC. So you have total control over the CHAOS. The familiar Legion UI also includes Sequencer and Modulation tabs which give further options to manipulate the samples and create even more CHAOS.

A True Legion
With the introduction of 66-Trombones, the Legion Series is now an army of almost 200 Players! The libraries come together to create a low-end assault of sound - aiming to the production of epic music. Combine the rich bass, and surprisingly bright qualities of the libraries in your next production and be as amazed as we have been while developing this line of products.
It is intense, deep and powerful, serving the specific needs of epic modern scoring - large epic brass.

OVERVIEW
Pro-grade Cinematic Brass
Never-before sampled 66 Symphonic Trombone Ensemble
8.81 GB (11,940 Samples) of Epic Brass
9 Different Epic Sustains and 4 Styles of True Legatos
Powerful Arcs and Marcatos
Special articulations including Sweeping Bends & Unique Cluster FX
3 carefully placed Hall microphone perspectives
5 Independent Spot microphone perspectives
'Clean' and 'Trailer' Mixes for instant cutting-edge sound
All patches come in DFD, TM2 and TMPRO.

REQUIREMENTS
Full Retail version of Kontakt 5.8+ required / Not compatible with free Kontakt Player
Runs as host or stand-alone application, VST or Audio Units plug-in, AAX under Pro Tools
Minimum: Intel Core i5 or equivalent CPU. 8 GB of RAM or more is highly recommended. For TMPro Patches, i7 or equivalent is highly recommended.
66-Trombones requires 8.8GB of Hard Drive Space
8 GB of RAM or more is highly recommended
Sample resolution: 48Khz / 24Bit stereo .wav, .ncw format
Format(s): Kontakt

home page: https://8dio.com/instrument/legion-series-66-trombones-kontakt-vst-au-aax/



TO MAC USERS: If RAR password doesn't work, use this archive program:
RAR Expander 0.8.5 Beta 4 and extract password protected files without error.
TO WIN USERS: If RAR password doesn't work, use this archive program:
Latest Winrar and extract password protected files without error.
Members of Guests cannot leave comments.
Would you like to be a Author?